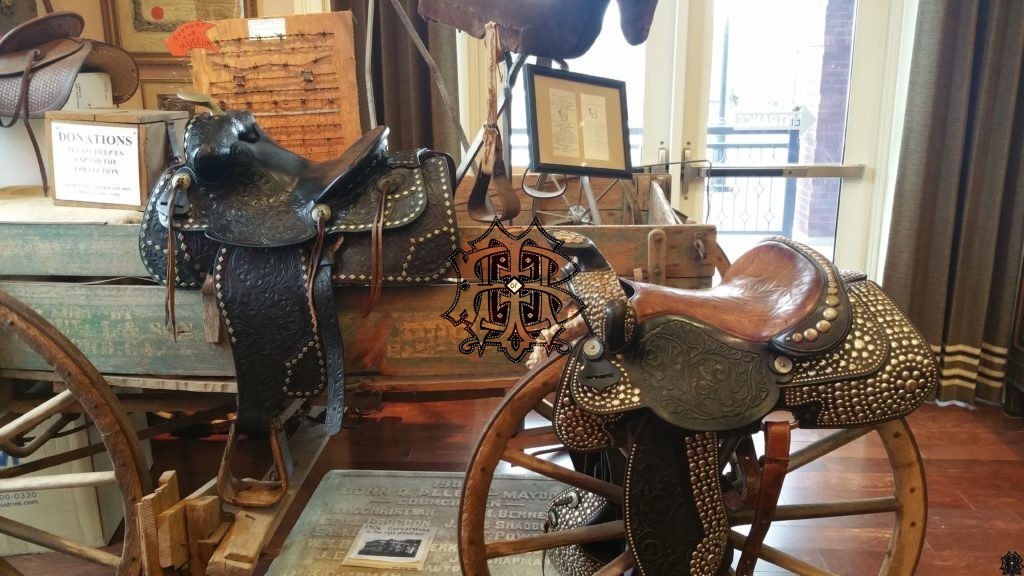 TWO…TWO…I need to say it twice to let it sink in.  TWO…Ok, maybe three times.  The Museum was recently contacted by Jan Kay, a resident of Cleveland, Georgia, who wanted to donate a couple of saddles.  She knew a great deal about the saddles that she had recently acquired from a horseman who used them on many occasions while owning them for 30 plus years.  He had decided to sell them, and our "gift angel" bought them to insure their preservation.  At first she thought she might try to place them with a collector in order to guarantee their survival in a private collection.  But she soon realized that everyone who had contacted her lived out of state, and she felt that since they were produced here in Buford, they at least needed to stay in Georgia.  She did one step even better than that.  She located our Museum and was certain they should go back home to the Leather City.
Prior to her finding the Museum, she advertised them nationally.  The most interesting character contacted her was "Big Daddy" from the "Cajun Pawn Stars," a reality show spin-off of the History Channel's widely popular "Pawn Stars."  Only airing for a year or two before being dropped, the show's intro included a Bona Allen Sundance saddle in the background.   I have included a web address so anyone can watch the intro to the show and see the saddle.  It is the prominent saddle with all the nickel silver spots in a very distinctive pattern.
Cajun Pawn Stars Open
from
Pablo Pulido
on
Vimeo
.
In addition to her gifting the Museum a Sundance saddle made in the 1960's, she also gave a 1950's "Diamond Ace" saddle; another highly recognizable parade or show saddle made by Bona Allen.  This early example is fully hand carved and adorned with diamond shaped, nickel silver accents.  It later evolved into a less expensive, hand stamped version they re-titled the "Ace of Diamonds" in order not to confuse the two.
Both saddles are keystone additions to our collection and are on display here at the Museum.  Thank you to Kay and all the other future "gift angels" who want to make our history available to as many people as possible.