Lynn A. Bowman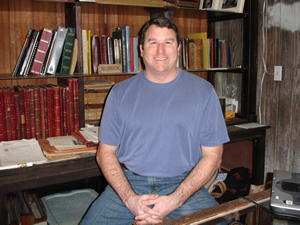 My family dates back to 1818 in the Hall-Gwinnett county area. My great-great grandfather John Bowman served as a courier for General Andrew Jackson in the War of 1812, and was later friends with the Cherokee Chief Major Ridge. As the land of Georgia opened to settlers, chief Major Ridge gave land to John Bowman rather than lose it to the expanding United States government. Three Cherokee braves helped John Bowman build a two story log cabin on Friendship Road, which served as the heart of a self-sufficient plantation. This cabin still stands today, but in a new location on Sardis Church Road.
I was born in Gainesville on March 19,1966, between the closing of Hutchins Memorial Hospital and the opening of Buford General Hospital. Mr. Lynn BowmanI attended Buford City Schools and graduated as Salutatorian in 1984. I graduated Mercer University in Macon in 1988 with a B.B.A. I lived in Macon for a number of years where I started a business forms and printing business, which still operates in the area as Sphinx Forms and Systems or Sphinx, Inc. At the same time, I operated an antiques shop on historic Vineville Avenue in Macon.
While in Macon, my interest in history peaked as I became active in the many preservation organizations. I was a member of the Middle Georgia Historical Society and a board member of Intown Macon Neighborhood Association. I served on the Board of Trustees at large, then as Treasurer and Secretary ('92-'96) for the Macon Heritage Foundation (a historic preservation organization with a revolving fund for real estate rehabilitation). During this time, I also restored two Victorian homes as my personal residences.
I returned to Buford in 1997 and founded Service First Realty, Inc. I entered the family business of real estate development and building. After a number of years of negotiating, I was able to purchase the perfect house for my family to restore. In 2004, I acquired Victor Hugo Allen's (Bona Allen's fifth child) residence (circa 1908), located on Main Street in Buford and painstakingly restored it to its former glory. It is now home for my family.
I have known Randy and Sandy for years, and have kept in touch with them. As they moved into retirement and away from Buford, I approached them about carrying on the tradition of the Museum on Main Street. Immediately we knew that we were a match and I then became the curator of the collection. The collection had been growing for twenty years.
Today the museum is known more collectively as the Museum of Buford and is located at 95-B East Main Street in a dedicated, larger location with room for expansion. It is my hope that in the next ten years we can double the museum's collection. In a more immediate future, we are currently creating a Fine Arts division, building off of the Buford Artist's Colony with examples from many of the artisits who have worked in our city.
One of the most exciting aspects of the museum is the recent addition of our new web site, making Buford's history and the museum's collections available to anyone at anytime. Buford High School agreed to take this project on and we have worked closely on this evolving endeavor, enabling the museum to greatly increase its exposure without increasing its overhead. Look for great things to come from the Museum of Buford.