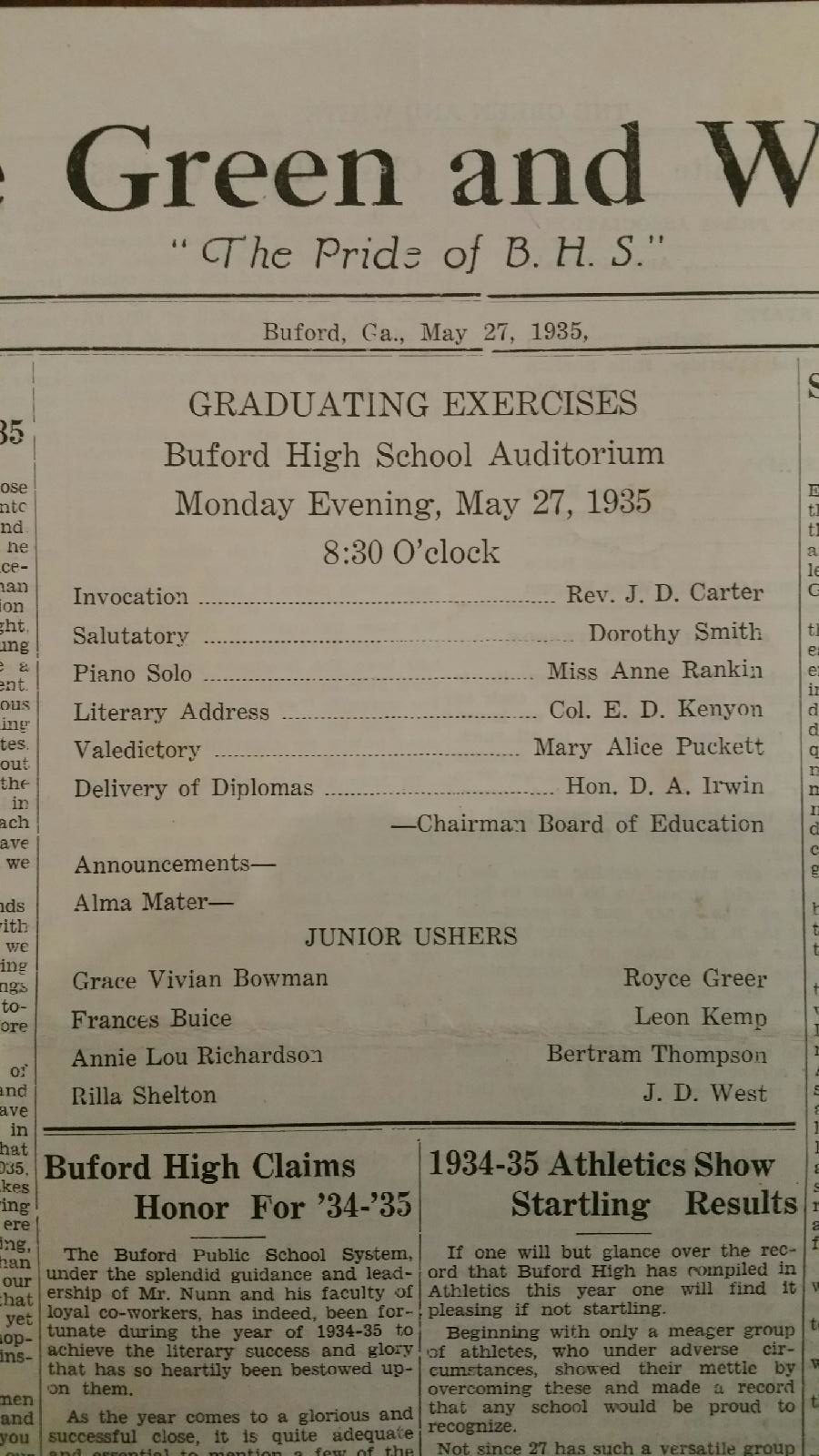 Since we are now celebrating the Class of 2016, we thought it would be appropriate to write about past graduations and the events surrounding this milestone.  One of the best sources we have documenting school history are the old newspapers from Buford High School.  Usually, the school newspaper is not publishing late in the school year, giving the staff time to finalize the year without a publishing deadline hanging over their heads.  The interesting thing is that Volume I, No. I of The Green and White, dated May 27, 1935, appears to address the year end: the graduation exercises; speeches by the Valedictorian and Salutatorian; tallies for the year in sports and academics; and Last Will and Testament, something very different from what would follow the years after.  With the wealth of this early graduation information, we have decided for the next two weeks to re-publish articles that are timeless and relevant to today's high school seniors.  Another public thank you goes to Pat Pirkle, who protected these papers from countless opportunities for destruction over the years.
Here are some articles we found interesting, exactly as they were printed.
FAREWELL, SENIORS
To those twenty-one boys and girls who this year are going out from our fair school, we bid "Farewell."  It has been a long wait during times of struggles and toils, but they have proved themselves worthy to step forth and receive their certificates of promotion.
Many of them will be true to their "Alma Mater." Others may turn; we know not where.  As one last word, may we say, "Ever bear in mind those principles set before you by your diligent teachers and superintendent."
STEPPING STONES
It is an old adage that everything is supposed to grow.  This adage holds true in graduates' study at higher schools.  Of the 1931 graduating class of Buford High School, only one, Douglas Mayson, who is attending the University of Georgia, is still seeking a further education.  Of the 1932 class, Mildred Beard is attending Brenau, Harold Orr is at the University of Georgia, and Willie Jay Rowe is training to be a nurse at the Georgia Baptist Hospital.  Of the 1933 class, Lula Mae Whitener, Nelle Hayes, and Grady Archer are attending the University of Georgia, while David Mayson is developing his talents at Vanderbilt, and Creighton Perry has received another scholarship at Oglethorpe.
And so we continue to grow with the 1934 graduating class. Eight are still continuing their quest for knowledge.  Lamar Attaway and Martha Louise Benson are taking a business course in Atlanta.  Margie and Virginia Strickland are taking a business course here in Buford.  Willie Ruth Pucket and Erwin Thrailkill are at Young Harris.  Edith Bagwell is attending G.S.C.W., while Annie Grace Wilbanks is another one of the outstanding students at the University of Georgia who received prepatory training at Buford High School.
Buford High is proud of these students and hopes that the list of the 1935 seniors will be even larger.  GRACE PIRKLE